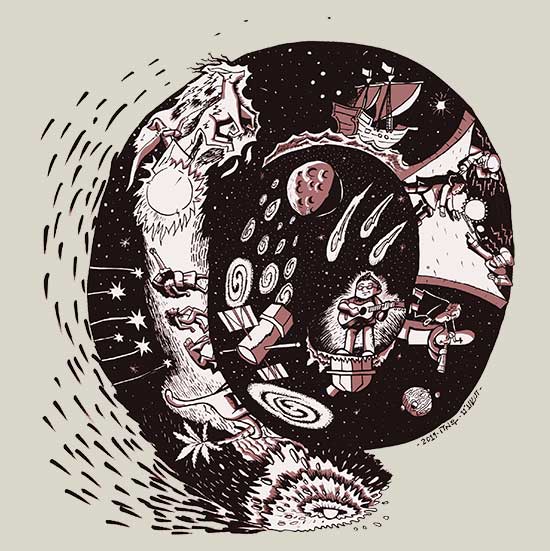 Matt Harmon
Cleveland Ohio Singer · Songwriter · Guitarist
Music has always been good for me. I didn't know it at the time, but when I would don my Walkman at night, and drift away to the likes of Paul Simon, Randy Newman, The Beach Boys, Neil Diamond, James Taylor, and the other gems from my mother's collection of cassettes, I was learning the ropes. I had inadvertently worked out the third harmony to Simon and Garfunkle's greatest hits. I was learning song structure and lyricism subconsciously, and when I finally picked up an acoustic guitar at the age of 15, it all came very naturally to me.
I was born on Hill Air Force Base, in Clearfield, Utah. My mother was a Navy nurse and my father an Air Force officer. He was soon stationed in England where he would stay for several years. My mother, however, grew weary of the arrangement and returned home with three year-old me in tow. Home for my mom was Cleveland Ohio, and Cleveland's been home to me ever since.
As a teenager, my musical tastes still included those classic acts I was turned onto as a kid, but a new set of influences were also presenting themselves to me. Pink Floyd's "The Wall" was a bit of an epiphany. While Paul Simon had taught me a lot about songcraft, Roger Waters blew the roof off of the thing. Suddenly songwriting didn't stop at the end of the song. The whole album could be the song! I dug in deep to the Pink Floyd catalog, and as that band dissolved, Roger Waters' solo albums. Two in particular, "The Pros and Cons of Hitchhiking" and "Amused to Death", showed me that while David Gilmour's guitar playing initially drew me in, it was the creative genius of Waters that really spoke to me. These albums are epic, and while the musical style isn't necessarily reflected in my writing, I think the longer form of story telling is present in my own albums.
From the very start, when I got my first acoustic guitar along with an instructional VHS tape, I was off to the races! As soon as I could seamlessly change from one chord to the next, I had a musical canvas to work with, and a whole lot to say. Lucky at first to have a good and similarly minded friend to learn and play with, original songs started coming to us immediately. Of course we were beginners and the earliest material was a bit elementary in retrospect. But the lesson was an immediate understanding that I wasn't Jimi Hendrix. I wasn't David Gilmour. I wasn't Paul Simon. I was Matt Harmon, and the key to my musical success would not be to sound like any of my influences, but to process what I'd learned from them through the filter of my own experiences.
I owe a great debt of gratitude to a little carriage house in the University Circle district of Cleveland. The Barking Spider Tavern was a legendary listening room, where seven nights a week there were at least two musical acts. There was never a cover charge, just an actively passed tip jar. It was here that I honed my skills as a performer. This singer/songwriting business is tricky, you know? You have to learn your instrument. You have to learn to sing and play simultaneously. You have to develop enough confidence and pride enough in your words to sing them out loud. And then, as if that's not enough, you have to shed your anxiety and learn to play to a room full of listeners.
Regular appearances at the Spider made this possible for me, and no matter where I'm playing, from a coffee shop on Cape Hatteras to a Biker Bar in Detroit, mentally, I put myself at the Spider. It was there that I learned not only how to manage a 90 minute or longer set of original music, but how to assess and connect with an audience. By the end of a show, I want to know that the woman by the fireplace relates to ironic takes on heartache, while her husband prefers a tale of a lonely soldier at war. Martin Juredine, the late owner of the since closed Spider, pulled me aside after a show one time and said quietly "Matt, you're finding your voice". That was it. No other review or praise will ever top the feeling of acceptance, confidence and satisfaction that I had at that moment. I could tell people that I'm a singer/songwriter, and mean it.
In addition to always writing and performing my songs, primarily solo, but with great players behind me if a situation calls for it, I spent some time playing in JiMiller Band. Jim Miller is a four decade journeyman of the mid-west jam band circuit, having founded Oroboros, a fixture in Cleveland's music history. In high school, my friends and I would sneak into Oroboros shows. We were blown away that these guys were playing Grateful Dead tunes so well. Jim's orginals were no joke either, and he is a uniquely talented guitarist of the highest order. So years later, I was honored to get the job as his rhythm guitar player, and no experience has been more valuable to me as a professional musician than this. It was through Jim, that I got to open for the likes of Little Feat, play on large stages at big festivals, and just generally improve as a guitarist in the comfort of a stellar band.
Today, I have no delusions of grandeur. As a kid, sure, I wanted to rock the big arenas. But now, I'm happy working out a new tune while my dog snoozes away on the couch. In an era where music is readily available for streaming, I have achieved the greatest possible success simply by lowering the bar that defines it. This is not to say I've given up on the dream. It's just that I've refocused my objectives. I want the last song I wrote to be the best song I've written. I want to entertain my audiences no matter how big or small they may be. I want to mark my existence in this world with songs on my observations of it.
I hope you find value in my work.
Thank you for listening,
Matt Harmon
"Matt Harmon is without a doubt one of Northeast Ohio's best singer-songwriters. Matt's performances are emotional and fun."
David Sullivan ~ Jam Turtle T.V.
"Childhood Dreams, contains many moments that will make you think back to what was, what could have been and then think ahead to what might be."
Matheson Kamin ~ Rustbelt Chronicles
"The whole shebang is excellent. The songwriting is super, and the playing is stellar throughout." (Cosmic Yonder)
John Soeder ~ Pop Music Critic - Cleveland Plain Dealer
" One of the most ambitious Cleveland releases I've seen in quite some time." (Cosmic Yonder)
John Hannibal - www.radiohannibal.com